Irony died a thousand deaths when Rahul Gandhi took pot shots at the Telangana Chief Minister K Chandrshekhar Rao and his family in a rally in Sanga Reddy, Telangana accusing them of dynasty politics. Addressing the rally Rahul Gandhi asked the gathering if they had voted for Telangana to be entrusted in the hands of just 4 people. He was taking a jibe at the Chief Minister KCR and his son, daughter and nephew who are all part of the Telanagana assembly. Rahul Gandhi accused that the entire administration and governance of Telangana has been entrusted in the hands of a single family.
K T Rama Rao, the IT minister of Telangana was quick to respond terming it as the joke of millennium that Rahul Gandhi was questioning dynastic politics.
He tweeted –
What Rahul Gandhi did not realize was that the rally ground had a huge cutouts of Jawaharlal Nehru, Indira Gandhi, Rajiv Gandhi, Rahul Gandhi and Sonia Gandhi and this picture has been tweeted and re-tweeted as an answer to Rahul Gandhi.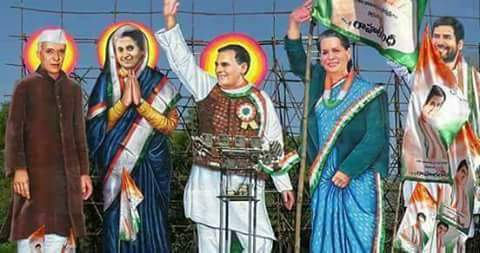 Congress has come out in defense of the Gandhi-Nehru scion that the speech was not written by Rahul Gandhi but by few district level leaders. This adds further embarrassment as people have started questioning the fact that even after 13 years of experience as a Parliamentarian, Rahul Gandhi is not aware of the regional politics and needs speech writers.
Posted On : 02-Jun-2017